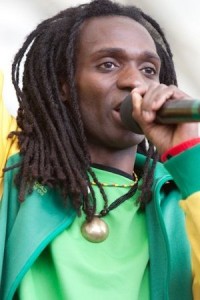 The singer is familiar with the problem of genital mutilation in his own country Mali: "This is one of the worst forms of violence against women and girls."In 1998 he published the Song "Demystification" in Mali, which is directed against mutilation and turned Islamists against him in such a way that he fled to Paris in 2002.
In 2004 he presented his second song against mutilation "Eh!Eh!Eh!" to the public. This track is also included on his current album "Yelen-la Lumière – the Light" as is the song "Litte girls from Africa", which is also opposed to genital mutilation.
Today Bafing passionately comments: "We have talked long enough, we need to act now." He supports the rights of women and girls not only with his music. For instance, in spring 2009 he expressed himself in favour of the protection of girls from female genital mutilation before the European Parliament in Brussels and in 2010 he took part in a conference of African parliament members in Burkina Faso, where strategies for banning mutilation practices were discussed.
This is NOT a problem of "colour" or "race" – it is a HUMAN problem that concerns us all – and that should strongly preoccupy us – no matter where we are!
Bafing Kul is part of our charity compilation album VISION ACTION CHANGE with his songs "Eh!Eh!Eh!" und "Little Girls From Africa". You learn more about Bafing´s music and engagement for women´s rights on his Website, MySpace or his Facebook page.
Live-Performance von "Eh!Eh!Eh!":
eh eh eh eh! from Bafingkul – Appolo Reggae on Myspace.
Dokumentation aus Mali – "It won´t be for today":
Ce n'est pas pour aujourd'h'ui (It wont be for today from Bafingkul – Appolo Reggae on Myspace.